20th Anniversary Community Celebration
Thank you for joining us as we celebrated King Library's 20th Anniversary! The community celebration featured remarks from local leaders and SJSU dignitaries, live performances, and more.
Details
Wed., Sept. 20
1:00–2:30 p.m.
King Library
Free and open to everyone.
Schedule
Speakers
Emcees

Michael Meth
SJSU King Library Dean

Jill Bourne
City Librarian
Guest Speakers

Dave Cortese
California State Senator

Cindy Chavez
County Supervisor

Matt Mahan
Mayor of San José

Cynthia Teniente-Matson
SJSU President

Omar Torres
City Councilmember
Share your King Library pics with us!
Tag us @sjsulibrary and @sanjoselibrary! Use #KingLibrary20.
Exhibits & Programs
Exhibits
Broadening the Participation of African Americans in Engineering Exhibit

Aug. 1 – Sept. 24
Location: AAACNA Studies Center
The exhibit will highlight Black engineering students' participation in Black Engineers Week and increase visibility for under-recognized Black inventors/engineers who significantly contributed to technology.

---

Bailando con Orgullo (Dancing with Pride)

Aug. 7 – Sept. 24
Location: AAACNA Studies Center
Celebrate Silicon Valley Pride with an exhibit of San José's first LGBTQ+ folclorico dance group Ensamble Folclórico Colibrí.

---

Pinoytown Rising: Filipino Americans in Santa Clara Valley

Sept. 8 – Nov. 30
Location: California Room, 5th Floor, King Library
This exhibit focuses on the "First Wave" Filipinos who immigrated to the U.S. and settled in the Santa Clara Valley during the first half of the 20th century.

---

World on the Move: 250,000 Years of Human Migration

Sept. 11 – Oct. 20
Location: Third Floor, King Library
This national exhibit aims to help people appreciate migration histories — their own and those of others.

---

From 800 Books to 8 Stories High

September – December 2023
Location: SJSU Special Collections & Archives Reading Room, 5th Floor
From 800 Books to 8 Stories High explores the growth and evolution of San José State
University's library over the course of 153 years.

---

Art of Remembrance Altar Exhibit

Oct. 2023 - Dec. 2023
Location: AAACNA Studies Center (5th floor), DiNapoli Exhibit Gallery (2nd floor), & Children's Room (1st floor)
Featuring traditional and contemporary visual arts by local and Bay Area artists celebrating Día de los Muertos (Day of the Dead).
Programs
Hosted by the Office of the Provost in partnership with SJSU King Library, this series provides a unique opportunity for showcasing the important research and scholarly activities of SJSU faculty members.
*All exhibits and programs are free.
Limited Edition Library Cards
Get your free limited edition King Library 20th Anniversary card from SJPL when you visit the Dr. Martin Luther King, Jr. Library. Designs feature the exterior of the building, Wee Explore PlaySpace features, and the Recolecciones artwork of Mel Chin—commissioned art available for public viewing at the King Library.
If you already have a public library card, you can trade your current card for one of these designs. If you do not have a public library card, you can apply today.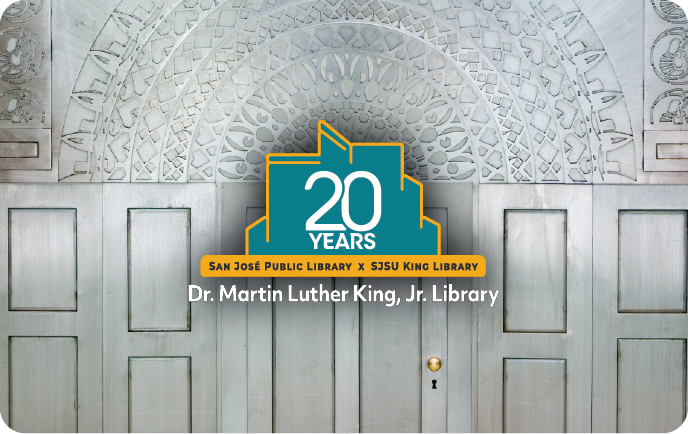 Hatch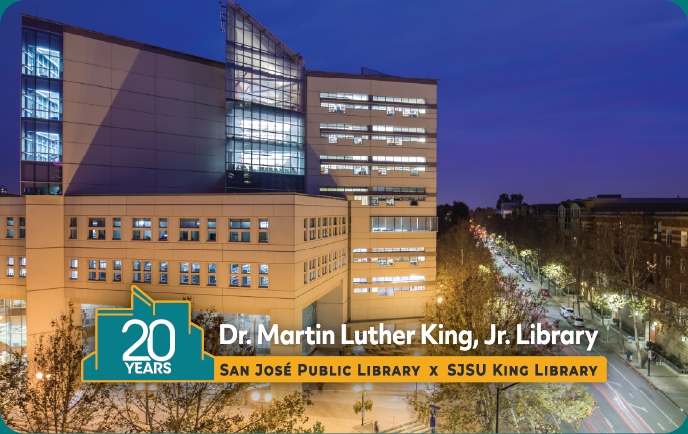 King Library at Dusk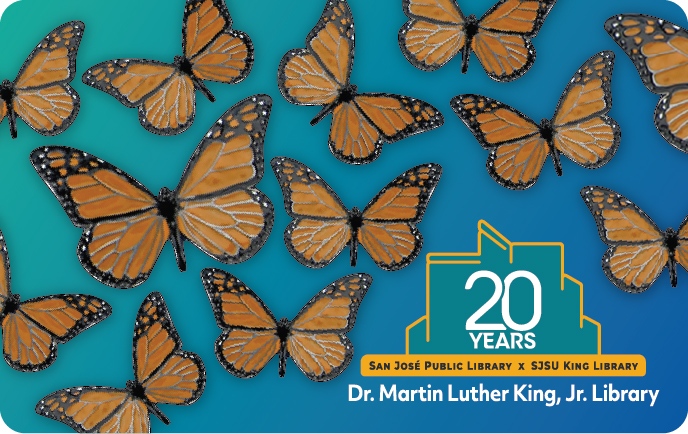 Migration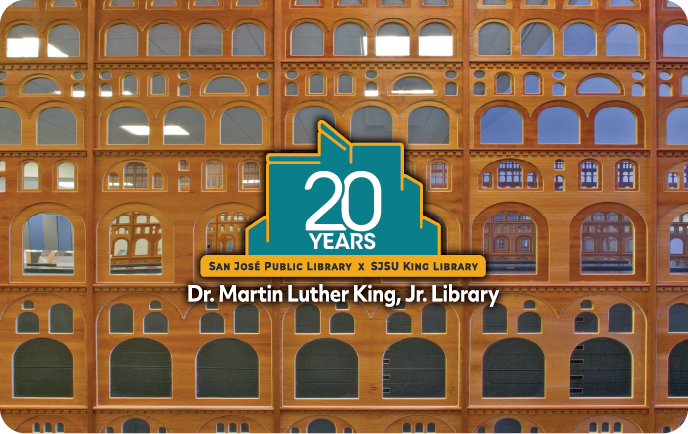 Babel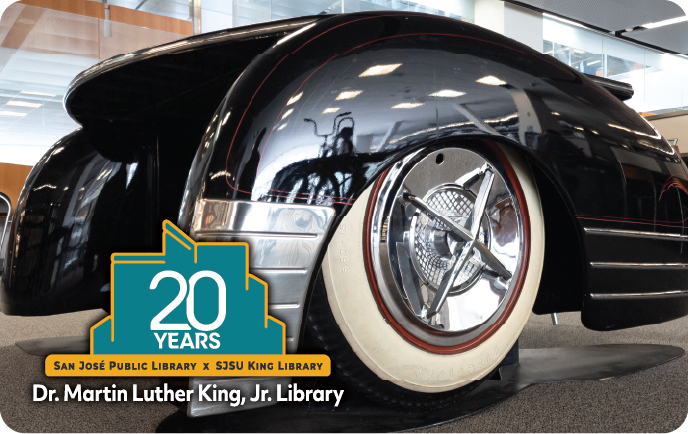 Raza Writers: '48 Chevy Fleetline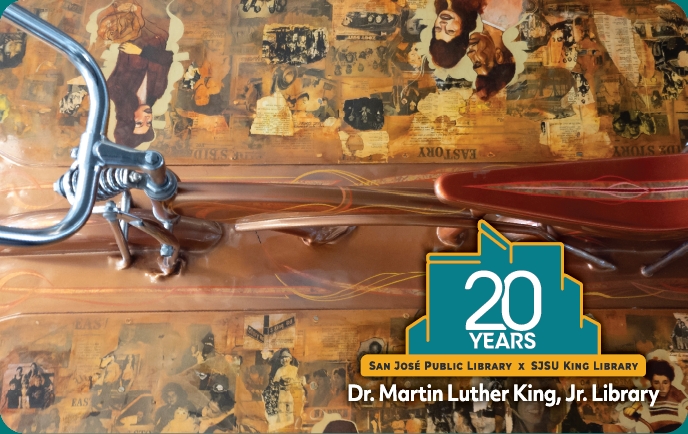 Raza Writers: East Side Story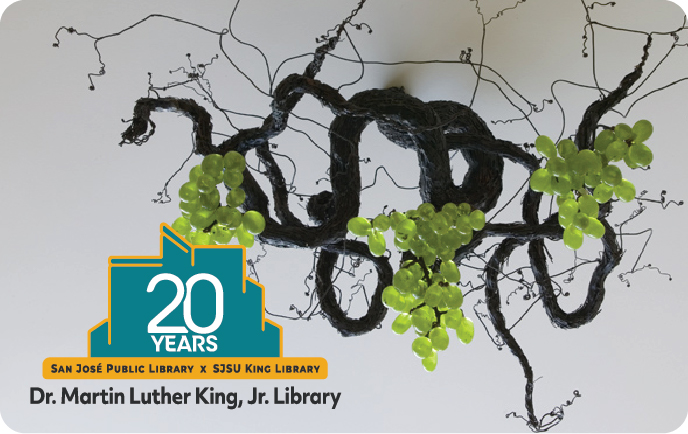 Sour Grapes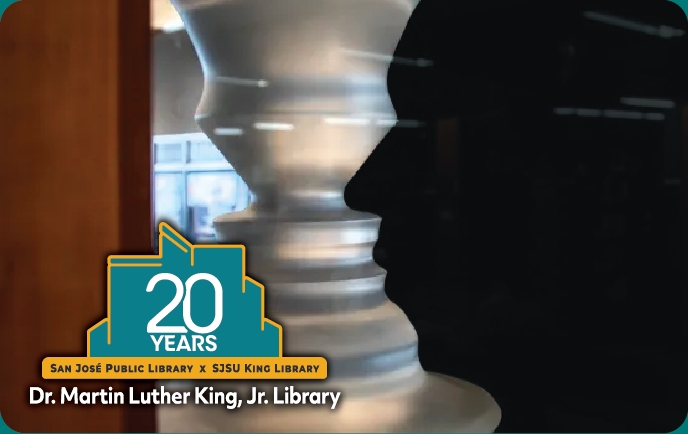 Vessel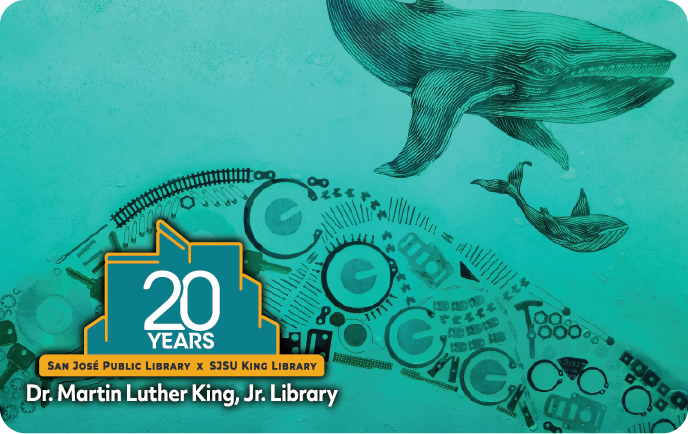 Wee Explore Playspace: Whales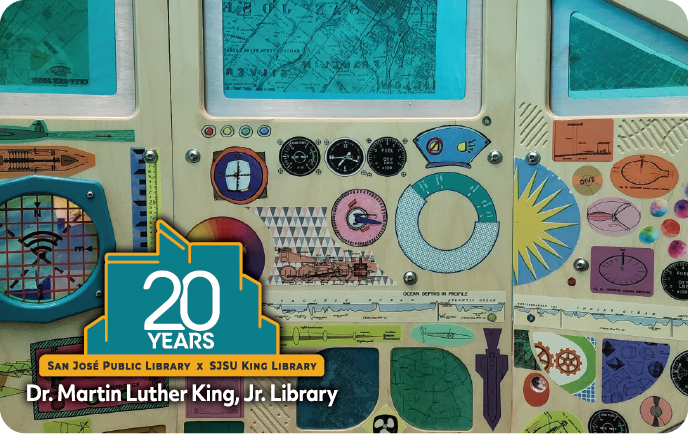 Wee Explore Playspace: Submarine
Share Your Story
Tell us how King Library has made a difference in your life.
What library staff, services, or resources helped shape your experience at King Library? We want to know your story and share it with others!